Australia has a long history of issuing attractive postage stamps, however, few are as iconic as the Navigator's high-value issues from 1963. The set was later reproduced as part of the 1966 decimal currency issue but desirability wise this is the set to have.
The set comprises six values ranging from 4/- to £2 and the print run on each issue varied massively.  Nearly 5.2 million of the 4 shilling blue was printed compared to only 303,687 of the 7/6 Olive! Thus odd values are more often offered for sale than full sets.
Anyway below is a few details:
Australia 1963 Navigators Or Famous Seafarers Set.
The set was released on the 9th October 1963 and all are perf 14.5 X 15. They were designed by Australian artist Walter Lacy Jardine, who earlier designed the 5d McDouall Stuart stamp. The famous navigators depicted are:
4/- Blue – Janszoon Tasman (Print Run 5,199,052)
5/- Orange Brown – William Dampier (Print Run 4,789,317)
7/6 Brownish Olive – James Cook (Print Run 303,687)
10/- Carmine Brown – Matthew Flinders (Print Run 2,190,145)

£1 Violet – George Bass (Print Run 1,388,153)
£2 Dark Brown – Philip Parker King (Print Run 501,165)

Given the high print runs, some values are easy enough to obtain used, however, the 7/6 and £2 are pretty much the same price in either condition. The low values are cheap and make a nice addition to a younger person's collection as they can be used to learn about the famous navigators pictured.
Covers
Stamps from this set are hard to find postally used on cover and even FDCs are a challenge. We have never seen a full set on First Day Cover so if you are reading this and have one please send us a picture!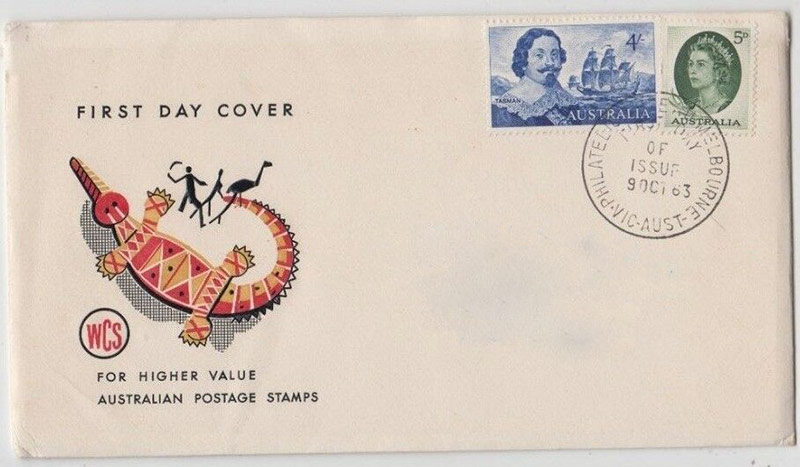 More Specialised Items.
If you were wanting to put a display together then Blocks of four look spectacular and are available from time to time.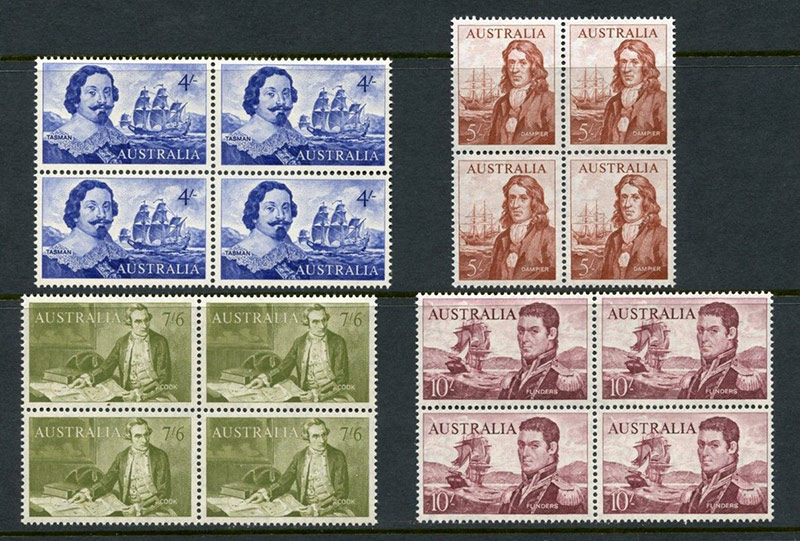 Stamps overprinted Specimen is also available for this set, but like blocks are not easy to find.

Buying a set
Ok now we have tempted you – how much will a set cost?  Well at the time of writing nice MNH sets sell for a high proportion of catalogue value. If you see a set as such below three figures then snap them up. For those just wanting a set to admire a mounted mint set or used one will cost a lot less (30-40%) of a UM set.
Decimal Reissue
When Australia switched to Decimal Currency in 1966 the set was reissued in the same colours but in cents & $. They are fairly common although Illustrated FDCs as pictured below are quite hard to come by.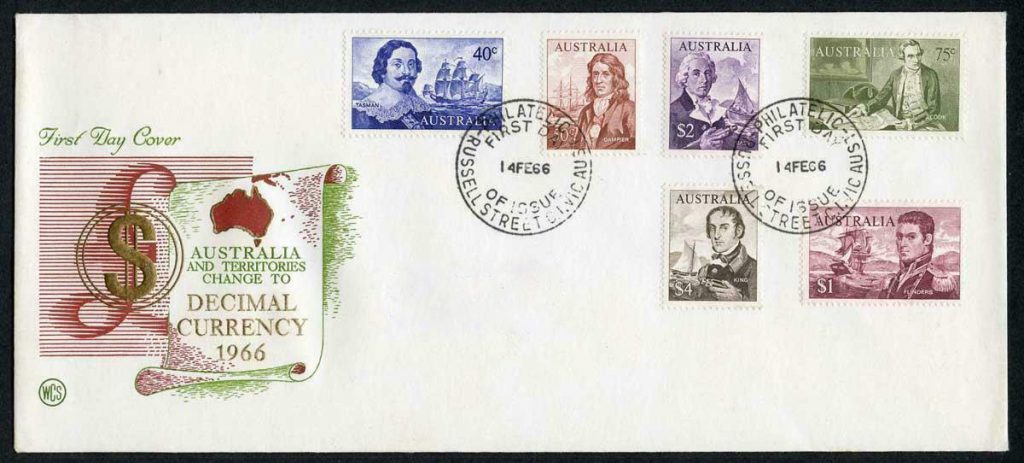 We have an article about the introduction of Decimal stamps here.
Before you go why not check out some more of our Thematic Collecting articles or have a look at our quiz section.