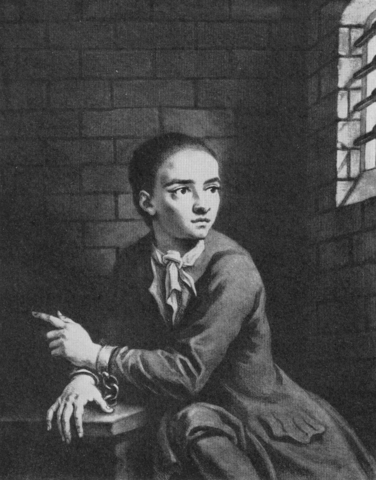 What was a highwayman?
Highwaymen as they were dubbed in Britain, were outlaws who plied their trade along the travelled highways of the world. In other parts of the world, they were known as land-pirates, mail-coach robbers, stagecoach robbers, road agents, or bushrangers. In the British Isles, they were active for the 200 years between the early 17th and 19th centuries.
The Life of Jack Sheppard
Jack Sheppard was an infamous 18th-century thief, burglar, pickpocket, and highwayman. He is undoubtedly best remembered for a series of spectacular jailbreaks from some of London's most notorious prisons. His daring exploits were to make him both a legend and hero to the working classes.
Here's a brief biography of the notorious "Gentleman Jack", "Jack the Lad", or "Honest Jack" Sheppard:
Early Life
John Sheppard, better known as Jack Sheppard, was born in White's Row, in Spitalfields, London sometime during 1702. His parents named him after an older brother, John, who had died before his birth. Reportedly, he was baptised the day after he was born, suggesting his parents thought he may become a victim of infant mortality. He had an older brother, Thomas, and a younger sister, Mary. Their father, a carpenter, died while Sheppard was still a young child. His mother, unable to support the family, sent Jack to the workhouse when he was just six years old.
Fortunately, when Sheppard was 10, he got a job as a shop boy for his mother's employer, William Kneebone, a wool draper, who taught him to read and write. By the time Jack reached 15, Kneebone had helped him find an apprenticeship as a carpenter. Throughout his indenture, Sheppard showed great promise as a carpenter and at aged 20, he had served the first 5 years of his time with an unblemished record. However, it is well documented that things started to go wrong for Jack from 1922 onwards, which was the time when he started to frequent the inns and taverns around his local neighbourhood.
A Slippery Slope
One alehouse where Sheppard soon became a regular was the Black Lion, just off Drury Lane. It was there that the somewhat innocent Jack became acquainted with the streetwise Elizabeth Lyon, a prostitute, better known as 'Edgeworth Bess'. Lyon soon introduced him to some of the capital's notorious criminals who also frequented the establishment.
Joseph "Blueskin" Blake would become a future partner in crime, and highwayman Jonathan Wild, who ran one of the biggest criminal empires across London, would turn out to be his nemesis. Jack took to the hedonistic lifestyle of drinking and whoring, like a duck to water. Inevitably, his carpentry began to suffer, and with a change in character, the increasingly headstrong Jack began to show belligerence towards his master. With the encouragement of Lyon, Sheppard took to crime in order to augment his employer's wages, which were no longer in keeping with his change of lifestyle.
A New Career
In early 1723, Sheppard's first known theft occurred when he stole two silver spoons from the Rummer Tavern in Charing Cross. When his petty thefts went undetected, Sheppard progressed to bigger things, largely stealing valuable goods from the houses where he found himself working. In August 1723, with only a year or so of his apprenticeship left to run he quit his job but continued to work as a journeyman carpenter. Flushed with the early success of his criminal career Sheppard soon progressed from theft to burglary. It was around this time that he fell in with a criminal gang headed by the kingpin, Jonathan Wild.
Next, Sheppard set up home with Lyon in Parsons Green, Fulham, before moving on to Piccadilly. When Lyon was arrested and jailed at St Giles's Roundhouse for petty theft, the local beadle refused to let Sheppard visit, so he broke in and freed her. In February 1724, Sheppard received his own first arrested after he committing a burglary with his brother, Tom, and his partner Lyon. Tom, also a carpenter, already had a conviction for stealing tools from his employer, and this time received the 'burned in the hand' criminal branding.
The Elusive Jack
In April 1724, Tom was arrested for stealing once again. Afraid that he may be hanged, Tom incriminated Jack, meaning a warrant was duly issued for his arrest. On April 24, 1724, Jack was apprehended and imprisoned in St. Giles Roundhouse. However, Sheppard's skills as a carpenter meant that escape from his cell presented him with little problem.
On 19 May 1724, Jack was arrested again, this time for pickpocketing in Leicester Fields (near present-day Leicester Square). He was detained overnight in St Ann's Roundhouse in Soho. The next day he was visited by Lyon, who was immediately recognised and locked in Jack's cell with him. The following day they appeared before Justice Walters, who decided they should be transferred to New Prison in Clerkenwell.
However, within a matter of days, Sheppard and Lyon had filed through their manacles and removed a bar from a window. They then used a knotted bed-sheet to descend to ground level. Thus, early morning on 25th May they found themselves in the prison yard. All that was left to do was to scale the 22-ft high (6.7 m) prison wall to freedom. When the story broke the next day, Sheppard's 'Jack the Lad' reputation was cemented with the public for perpetuity.
Betrayed by a Friend
Free once more, Sheppard immediately returned to his thieving ways to make a living. That was until he was betrayed by his once friend, the notorious crime lord Jonathan Wild, who by now had turned informer.  On 23 July, thanks to information given by Wild, the authorities apprehended Sheppard. He was quickly tried, sentenced to death, and then sent to Newgate Prison to await his fate.
However, true to character, he immediately began to formulate an escape plan. In his cell, Sheppard found a hatched opening that was protected by large iron spikes. He filed away one of the spikes to the point where it could easily be broken off. On the evening of 30th August, Bess Lyon and her friend Moll Maggot came to visit Sheppard. While they distracted the guard, Jack managed to dislodge the weakened spike. With his wiry frame, he was able to squeeze through the gap in the hatch into a darkened passageway from where he made his escape. However, he was not to enjoy freedom for very long.
The Last Escape
He was recaptured on 10 September, housed in solitary confinement in the most secure part of Newgate Prison and manacled to the floor. Nevertheless, once again, he managed to break free from his chains. He then climbed a chimney, picked the locks of several bolted doors, and then using a blanket as a makeshift rope, descended several storeys of the jail to his freedom. Over the next days few days, he went on a thieving spree, followed up by a drinking binge, which led to him being easily recaptured and returned to prison.
On 16 November 1724, Sheppard was driven by cart from Newgate to Tyburn, where he was to be hung. The route was reportedly lined by a mob of more than 200,000 people. However, it was evident that Jack had planned yet another daring escape as guards found a small knife on his person. It was evident that he had intended to cut the ropes that bound him to the small cart and then make his getaway by disappearing into the huge crowd. However, for the 22 years old Jack Sheppard, on this occasion – lady luck was to elude him!
The Legend of Jack Sheppard
There have been numerous and varied retellings of Jack Sheppard's life through stage plays, biographies, novels, and songs, keeping alive the memory of one of Britain's most celebrated highwaymen. Such was his celebrity at the time leading up to his execution, that his portrait was made by the renowned 18th-century artist, Sir James Thornhill. Additionally, an autobiographical narrative of Jack Sheppard's life, thought to have been ghost-written by Daniel Defoe, was sold at his execution.
The Beggar's Opera
Jack is also seen by many as being the main inspiration for the criminal gang leader character, Macheath, in John Gay's 'The Beggar's Opera', which was written just four years after his death. Likewise, Sheppard's life of woe is also said to have been the main innovation for William Hogarth's series of 12 engraved "idle prentice" plates, that were first issued in 1747. They show a parallel tale of descent by the apprentice, Tom Idle, into a life of crime that eventually led to the gallows.
Literary Fame
Famed 19th-century author, William Harrison Ainsworth, wrote the historical romance novel, 'Jack Sheppard', which was based on Jack's life. It was initially published in serial form in Bentley's Miscellany literary magazine between 1839 and 1840. The book proved so popular, it spawned eight different stage play adaptions, which ran simultaneously. The popularity of Jack's story raised fears amongst the authorities that it might draw others to a life of crime. It led them to refuse to license any plays in the London area with "Jack Sheppard" in the title for some forty years.
Jack's the Lad
An early music hall song of the 1840s entitled 'Jack's the Lad', included such graphical lines as:
"If ever fellow took delight in swigging, gigging, kissing, drinking, fighting
Damme, I'll be bold to say that Jack's the lad."
The song was thought by many to have been inspired by the memory of Sheppard, especially given the success and timing of the release of Ainsworth's eponymously titled book. In time, the song title gave rise to the popular British saying "Jack the lad", meaning a cocky, brash but likable young man. The Jack Sheppard character also featured heavily in the Penny Bloods (later Penny Dreadfuls), which were early Victorian fictional adventure comics, mostly read by the working class. Several books have also been published in recent times recounting the life of the irrepressible thief and highwayman Jack Sheppard.
If you've enjoyed reading this article, you can find other features on notorious highwaymen by clicking on https://www.fiveminutesspare.com/education/category/people/highwaymen/