Now part of the United Arab Emirates (UAE), Umm al Qiwain was once an independent stamp issuing authority producing hundreds between 1964 & 1972. They were rarely used for postage and Stamp Collectors of a certain age will remember fondly the large colourful CTO stamps that adorned our junior collections.
The UAE took responsibility for postal operations from the 1st of August 1972 however in their final years they issued a number of what was affectionately known as 3D stamps and one of the most popular sets is the one below…
1972 Umm al Qiwain Animals Air Mail Set
The set comprises 15 stamps, mainly mammals and all are denominated at 1 Riyal. The exceptions are those depicting a Giant Tortoise, Chamelion & a Crocodile. They were printed with a plastic lenticular coating, which gives them their 3d effect and all values are imperforate.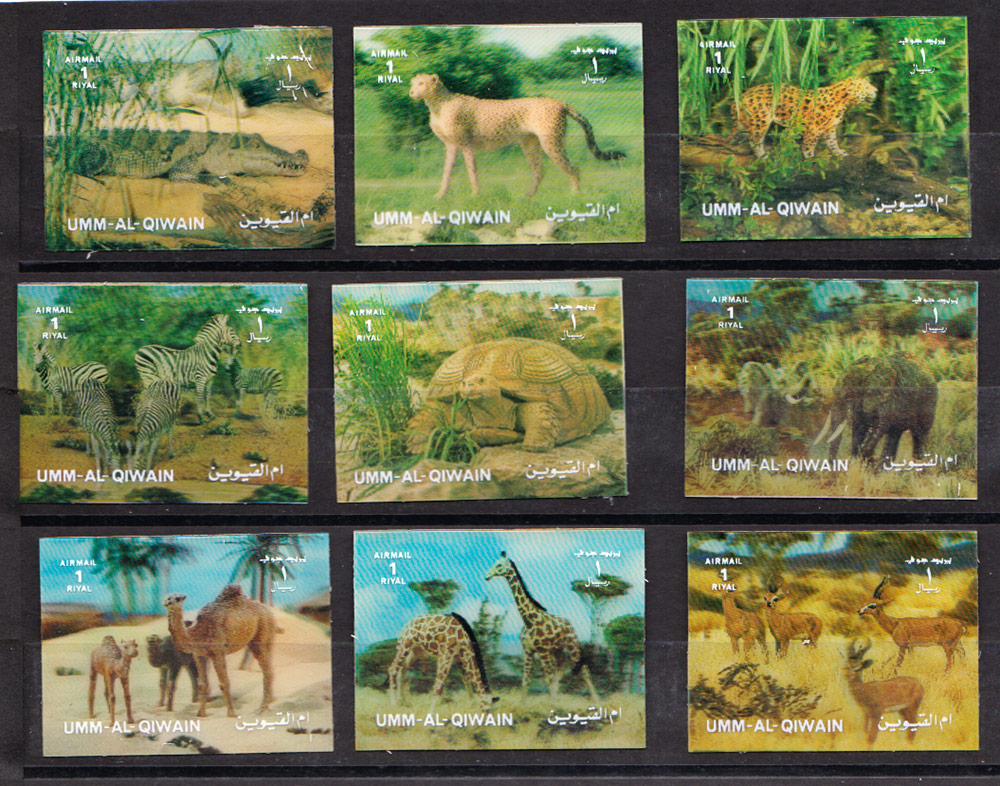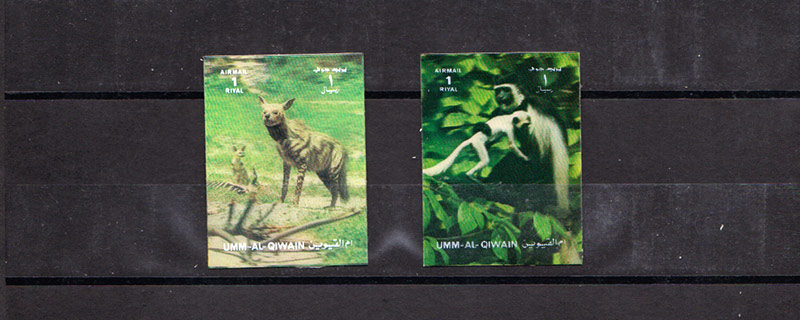 They measure around 50mm x 40mm and are invariably found mint, unlike the more traditional issues which are normally encountered cancelled to order (CTO). This is understandable as it would be nigh on impossible to put permanent cancels on the plastic surface.
Other Items
The stamps were apparently issued in a Miniature sheet format containing 16 stamps. We have never seen it as such but it would make sense. Given the set is 15 stamps we are assuming there was a label for the 16th stamp? If anyone has one and can confirm this please let us know.  Also, we have never seen these stamps postally used although we have heard the rumours that some exist. Again if you have on send us a picture, please.
If you want to add a set to your collection, expect a bit of a hunt as although not expensive, they do seem quite hard to find. They appeal to crafters so many will have disappeared from the stamp collecting hobby over the years.
Before you go
Why not join us at Five Minutes Spare. We have plenty more articles on thematic stamps and even some quizzes about the subject to test your philatelic knowledge. Plus we have a wealth of other information that you may be interested in. Go on you know you want to…