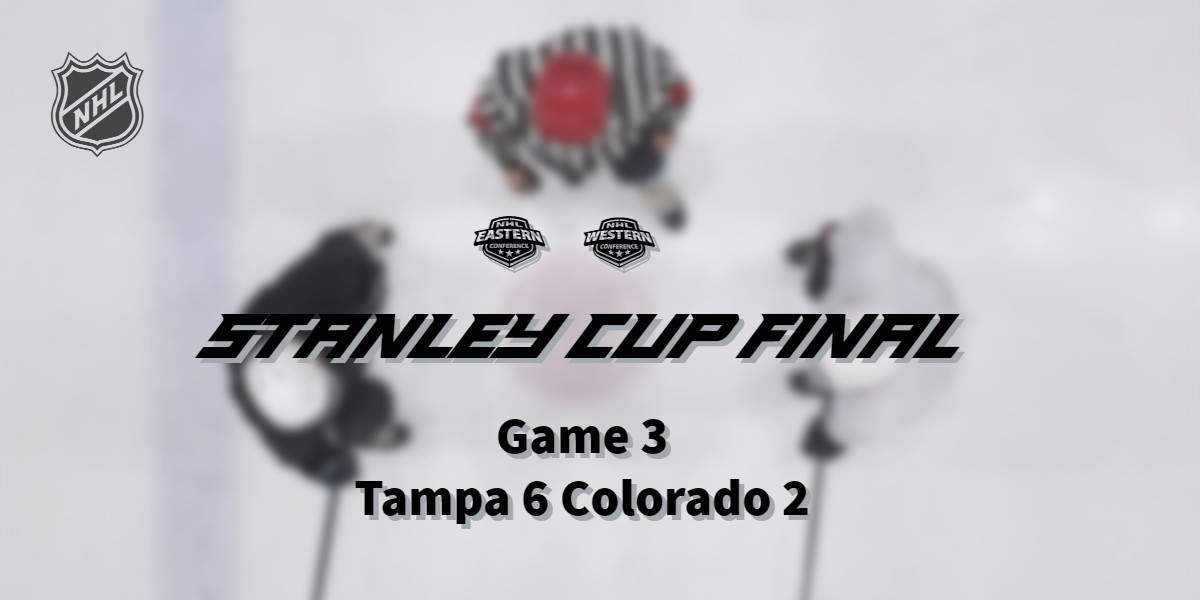 The Lightning ensured that the 2022 Stanley Cup Finals will go to at least 5 games with a comprehensive win in game 3.  Tampa tends to play better at home and they looked like a different team in this one. They did have to survive an early scare going 1-0 down and relying on Vasilevskiy to pull off a crucial save.
However, Anthony Cirelli got the Lightning back in it in the 13th minute. Then Ondrej Palat capitalised on a giveaway to give Tampa their first lead of the series.
Colorado briefly got back into the game in the second period pulling it back to 3-2 but three more 2nd-period goals soon put a stop to any hopes of a comeback. Both of The Avalanche's goals came on power play opportunities and they will be slightly concerned that they were so soundly beaten despite having more takeaways.
Tampa's goals all came from different players and if they can win game four they will definitely feel like the momentum has changed.
Game Three  Highlights Below
This was the way to bounce back from a 7-0 drubbing and the Amalie Arena was bouncing with a completely sold-out with the attendance of 19,092. The fans were even treated to a free fight as you can see in the video above.
So what next?
The series is now at a pivotal stage. If Tampa manages to tie it up then we wouldn't rule out this going to seven games. Ac win for Colorado would put them firmly in control with a home game coming up. Coming back from 3-1 down is not an easy feat and in fact, it has never been done in the Stanley Cup Final. Well not exactly as the Toronto Maple Leafs did come back from 3-0 in 1942. That was also the first final to go to seven games. See we area fountain of trivial knowledge here.
Up Next
The series continues in Tampa on Wednesday, June 22 at 8 p.m. ET. That's 1.00 am Thursday for us UK viewers.