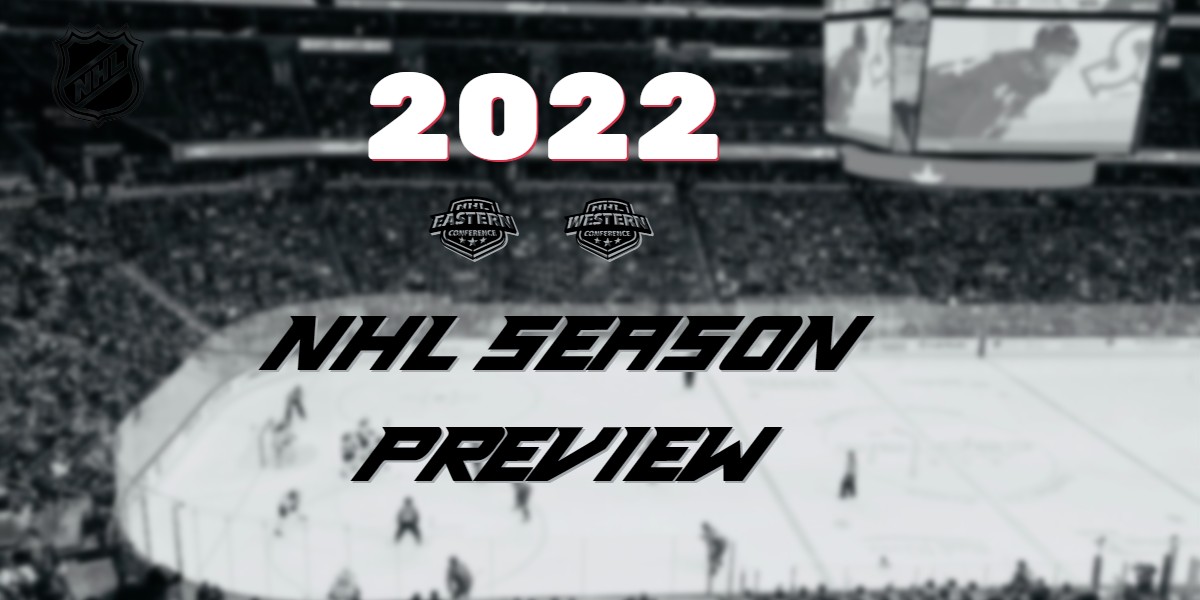 The 2022 NHL season is upon us and last year's winners Colorado are well fancied to repeat. They were dominant in stopping Tampa from gaining a three-peat last year but might face a bit more competition this time round. Repeating is hard and there are a few teams who will fancy their chances at taking the trophy this year.
Eastern Conference
In the East, we expect another good showing from Toronto well in the regular season anyway. If they can get over their first-round playoff hoodoo then they could go all the way in 2022. They will face stiff competition for the division from both Florida & Tampa.
The Metropolitan Division looks like belonging to the New York Rangers despite them losing a few key players. The signing of Vincent Trocheck from rivals Carolina will ease that pain though. The Penguins have been in the postseason every year since 2006 and that is unlikely to change. The surprise team might be Columbus who made a statement of intent by giving Johnny Gaudreau a huge contract. They also held on to Erik Gudbranson and might just sneak into the wild card places.
Western Conference
In the West, the Colorado Avalanche still looks like the team to beat. They will be without last year's starting goalie Darcy Kuemper who is now in Washington but most of last year's other starters are back. Their main competition in the Central might come from Minnesota who has no trouble scoring and also have the 2021 Vezina Trophy-winner for best goalie, Marc-Andre Fleury in nets.
In the Pacific division, we expect Calgary to thrive despite having a bit of player turnover. Johnny Gaudreau and Matthew Tkachuk are gone, however Nazem Kadri and Jonathan Huberdeau should fill the void admirably.  Their main challengers might be Canadian rivals, Edmonton. They brought back free agents Evander Kane and Brett Kulak and look to have a star in the making in goalie Jack Campbell.
Anyway here is how we see the divisions panning out in 2021 …
Eastern Conference
ATLANTIC DIVISION
1 Toronto Maple Leafs
2 Florida Panthers 
3 Tampa Bay Lightning 
4 Boston Bruins (WC)
5 Buffalo Sabres 
6 Detroit Red Wings
7 Montreal Canadiens  
8 Ottawa Senators
METROPOLITAN DIVISION
1 New York Rangers 
2 Pittsburgh Penguins 
3 Carolina Hurricanes 
4 Columbus Blue Jackets 
5 New York Islanders
6 Washington Capitals
7 New Jersey Devils
8 Philadelphia Flyers  
Western Conference
CENTRAL DIVISION
1 Colorado Avalanche
2 Minnesota Wild 
3 St. Louis Blues 
4 Dallas Stars 
5 Nashville Predators  
6 Winnipeg Jets 
7 Chicago Blackhawks
8 Arizona Coyotes
PACIFIC DIVISION
1 Calgary Flames 
2 Edmonton Oilers
3 Vegas Golden Knights
4 LA Kings (WC)
5 Vancouver Canucks
6 Seattle Kraken
7 San Jose Sharks
8 Anaheim Ducks
The Playoffs
The 2022 season will have 16 teams in the post season, eight from each conference. This will include the top three teams in each division plus two "Wild Card Teams". In Round one the division winners will play a wild card team and the next two in the division will face off.  Then the winners of these games will meet again to decide who goes through to the conference finals.
Our Predicted bracket is…
Eastern Conference (winners in blue)
Round 1
Toronto Maple Leafs v Boston Bruins
Florida Panthers v Tampa Bay Lightning 
New York Rangers v Columbus Blue Jackets 
Pittsburgh Penguins  v Carolina Hurricanes 
Round 2
Toronto Maple Leafs v Florida Panthers
New York Rangers v Pittsburgh Penguins
Eastern Conference Final
Toronto Maple Leafs v New York Rangers
Western Conference (winners in blue)
Round 1
Colorado Avalanche v Dallas Stars
Minnesota Wild v St Louis Blues
Calgary Flames v LA Kings
Edmonton Oilers v Vegas Golden Knights
Round 2
Minnesota Wild v Colorado Avalanche
Calgary Flames v Edmonton Oilers 
Western Conference Final
Calgary Flames v Minnesota Wild
Stanley Cup Final Prediction
Calgary Flames beats New York Rangers in six
You can check out our other Sports posts here