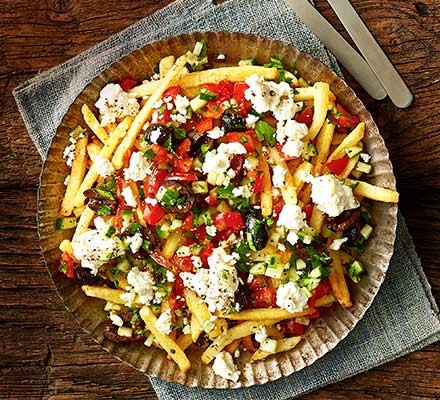 Its Friday night and you know what that means… you can forget eating healthy and pig out a bit. Saying that, this meal isn't even that unhealthy. It's got plenty of veg which will contribute to your 5 a day. 
This recipe is sure to work up and appetite, so give it a read and get cooking!
It's also great for sharing… but we won't judge you if you don't want to.
Ingredients
400g frozen French fries
1 tsp dried oregano
2 tsp olive oil
¼ finely chopped cucumber
10 pitted and halved black olives
6 finely chopped cherry tomatoes
1 tbsp finely chopped parsley
3 tbsp Greek yogurt
40g crumbled feta
Method
Mix the fries with the dried oregano and olive oil, then cook following the package instructions.
While the chips are cooking, mix the cucumber with the black olives, cherry tomatoes and parsley. Mix the Greek yogurt with half of the crumbled feta in a separate bowl.
Tip the fries into a serving dish, top with the salad and yogurt mixture, then scatter over the remaining crumbled feta. Season and serve.
Easy as that!
Recipes courtesy of BBC GoodFood. 
Published in Uncategorized
Recommend

0

recommendations