Stevenage FC is currently the second most successful football club in Hertfordshire, being members of the English Football League (EFL).  This is a serious achievement for a club that has only really played competitively since the 1980-81 season. They were originally formed in 1976 following the demise of Stevenage Atletic but were a youth team only in those early years.
Their road to the league began in 1980 when they joined the United Counties League and they won the UCL League & Cup Double that season. They built on that early success and soon began climbing the ranks, joining the Isthmian League in 1984-85 and the Conference in 1994-95.
Robbed Of Their League Place?
Stevenage Borough as they were then called were Conference Champions in 1995-6, however, they were unable to take up their place in the EFL that year as their ground failed to meet the required standards. This was a shame as they had a strong squad, led by England C & later Jamaican full international Barry Hayles who cracked in 34 goals in their title run. Fortunately, when their next chance came up the ground was ready.
FA Trophy Success
This was a bit longer in coming, however, after failing at the semi-final stage in 1996-7, Stevenage made it to the 2002 final at Villa Park where they lost 2-0 to Yeovil Town. Success finally came in 2007 when after breezing through the rounds they beat Kidderminster Harriers 3-2 at Wembley. This (for the neutral anyway) was one of the best finals ever as Stevenage Battled back from a 2-0 half time deficit. The crowd that day was an astonishing 53,262!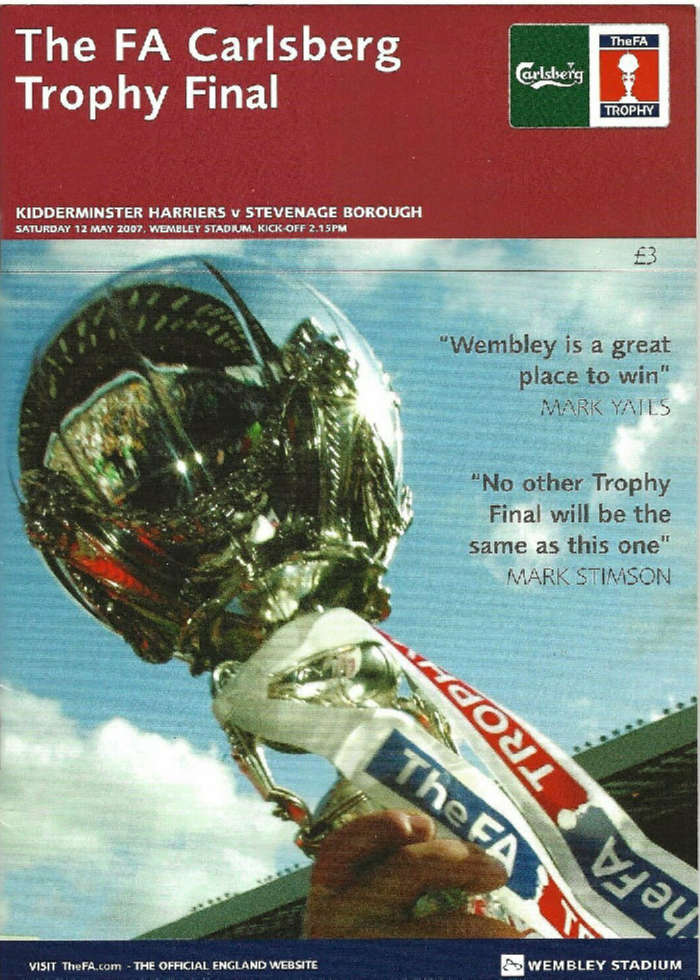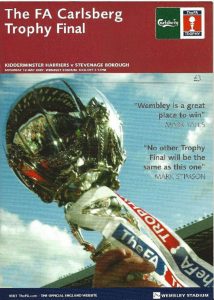 They also lifted the Trophy in 2009 beating York City 2-0.
Into The League
Stevenage won the Conference for the second time in 2009-10 and this time their ground was ready. They also reached the FA Trophy final again but an extra-time goal saw them succumb 2-1 to Barrow.  They carried on where they left off in 2010-11 not only gaining promotion to League One at their first attempt but also reaching the FA Cup 4th round thanks to a great win over Premier League Newcastle United.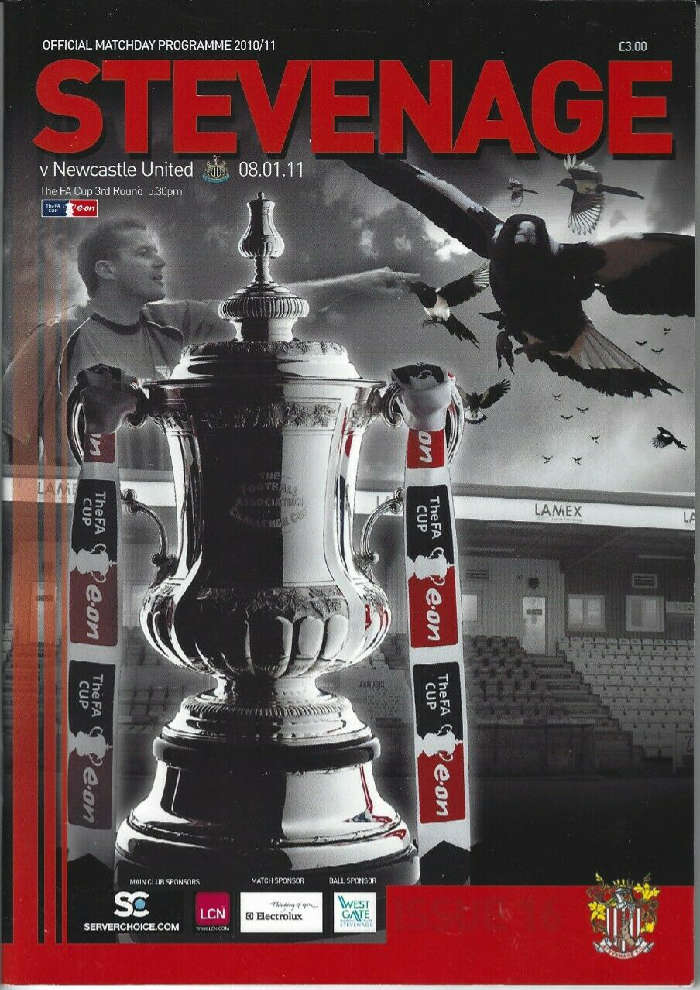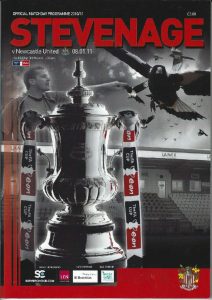 Best Season To Date
2011-12 will be a season that will long live in the memory of Stevenage FC fans not only did they so nearly make it a third successive promotion but they also reached the 5th round of the FA Cup! Too many draws cost them any hope of automatic promotion however they did sneak into the playoffs. They went on to lose 1-0 on aggregate against Sheffield United and they also took Spurs to a replay in the FA Cup.
That was as good as it has got and two seasons later they were back in League Two.
Stevenage FC List of Honours
EFL League Two
Promotion Play-off winners: 2010–11
Conference National
Champions: 1995–96 & 2009–10
FA Trophy
Winners: 2007 & 2009
Runners-up: 2002 &  2010
Herts Senior Cup
Winners: 2008–09
Isthmian League
Premier Division champions: 1993–94
Division One champions: 1991–92
Division Two North champions: 1985–86 & 1990–91
United Counties League
Division One champions: 1980–81
League Cup winners: 1980–81
Best FA Cup Run 
5th Round in 2011-12 vs Tottenham Hotspur
Club Details
Below is some information you will find useful if you are planning to watch a game or just want to keep abreast of their performances.
Address
Stevenage Football Club Ltd
The Lamex Stadium
Broadhall Way
Stevenage
Herts,
SG2 8RH
Stevenage FC On Social Media
So there you have it our quick guide to Stevenage FC. If you want to see what else Hertfordshire has to offer check out our Hertfordshire home page here. Or for more information on the town itself, why not have a look at our Stevenage Location Guide.
Published in Team Pages
Recommend

0

recommendations