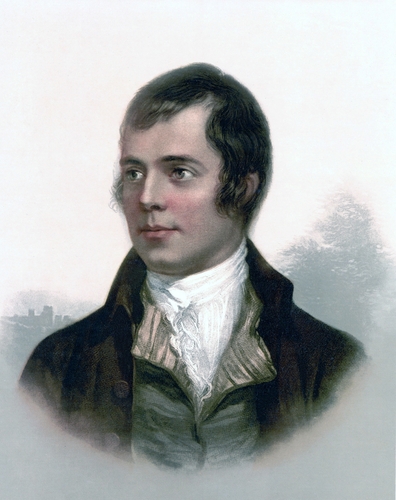 A Brief History of Robbie Burns and Burns Night
Burns Night is primarily a Scottish celebration held annually on, or around, the 25th of January. It commemorates the life and work of famed poet, Robert Burns (the Scottish Bard), who was born on 25 January 1759. Depending on whether the gathering is large or small, formal or casual, the evening's festivities may vary to some degree. However, the core traditions of eating haggis, drinking whiskey and the recitals of Burns' work are always adhered to, at any credible Burns Supper.
We know that even the world's most celebrated literary figure, William Shakespeare, does not have a day solely dedicated to him. So, just why is it that Burns is so revered? And, just how did the traditions of Burns Night come about?
Early Life of Burns
Robert Burns was born on 25th January 1759 in Alloway, South Ayrshire, Scotland. He was the son of a tenant farmer and brought up in a household where money was always tight. 'Rabbie' grew up performing hard physical work on the farm as a child and managed very little formal schooling. However, his parents ensured he received a good home education, during which he developed a love of literature and poetry. He even went on to study the classics in his mid to late teens.
In 1786, his first collection of works was published, which brought him immediate success. His work reflected the preference of the masses of the time for rustic, romantic poetry. Thus, at the age of 27, Burns became famous across the whole of Scotland and was affectionately dubbed the Ploughman Poet. In fact, Burns is very much considered a pioneer of the romantic poet movement. He is said to have been a strong influence on the likes of Wordsworth, Coleridge and Shelley.
As a writer and poet, Burns was prolific. He also wrote a prodigious number of songs, usually arranged to traditional Scottish folk melodies. And, as well as penning romantic pieces, his works were often centred on civic and political issues of the day. However, Burns' lyrical works did not pay him enough to live on. Thus, he had to subsidise his poet's existence by working as a tenant farmer, and later, as an exciseman.
The Spendthrift Poet
Burns also had a well-earned reputation as a drinker, spendthrift and serial womaniser. This obviously did little to enhance the prospect of him ever gaining financial security. His tumultuous love life saw him father a dozen children. Nine of the siblings were to his wife, four before they were married. However, sadly only three of the twelve managed to survive to adulthood. His three other children were born to three different women. His continual infidelity meant he had a constant on-off relationship with his long-suffering wife, Jean Armour.
Once, he even planned to abscond to the West Indies with his then latest mistress, Mary Campbell (Highland Mary), leaving behind his pregnant wife. However, perhaps heartened by the success of his latest published works, he ended up blowing the money saved for his intended new life, having a good time in Edinburgh. However, despite his scandalous reputation Burns still managed to become a Scottish cultural icon within his own lifetime. His popularity was no doubt helped by the fact that all his works were written in a humorous fashion. He also used the strong Scottish working-class dialect, dubbed the Scots language, in all his works.
It turned out that Burns wasn't destined to enjoy a long life! He died on 21 July 1796 in the small Scottish market town of Dumfries. A congenital rheumatic heart condition took his life at just 37-years-old. The news of his death quickly reverberated throughout the whole of Scotland. His passing saw Burns being mourned on a national scale. He was eventually laid to rest at his own mausoleum in Dumfries.
The First Burns Supper
The first Burns Night was held on the 5th anniversary of the poet's death on 25th July 1801, at Burns Cottage in Alloway. It was a small, intimate gathering of family and friends, sharing memories and reminiscences of the poet. They are said to have enjoyed a hearty meal of haggis and tatties (potatoes) and neeps (mashed turnip or swede), all washed down with plenty of Burns' favourite tipple, whisky. On hearing of the event, some locals decided to hold their own commemorative Burns supper, the following year. And hence, still more 'Burns' gatherings happened the year after that. Burns Night quickly became a national celebration of Rabbie Burns and Scottish culture, throughout the entire country. The day was changed along the way to the 25th January, to mark Burns' birthday, rather than the day he died.
Today's Burns Night
Now Burns suppers are now held worldwide by people and organizations that can claim even the merest hint of Scottish heritage, particularly those in the rest of the UK, Ireland, North America and the Antipodes.  What you might not know is that Burns is even celebrated in Russia. He became popular there in the 19th century with his works being translated into Russian. During the Soviet Union era, he was considered the 'people's poet', with even a commemorative stamp being issued in his honour in 1956.
Even today, Burns remains popular in Russia with his works often being recited in schools. And, while haggis is a banned product in America, due to its offal content, it said that haggis smuggling across the Canadian border becomes big business around mid-January.
At a Burns' Night event, both men and women will typically dress up in the Scottish national costume, including tartan kilts, whose colours will identify their ancestral clan. The traditional meal of haggis, tatties and neeps will be eaten, along with other typical Scottish fayre. Some of Burns most notable works will be recited and sung, not least of all "Auld Lang Syne". The song must rate as Burns' most famous composition, given that it is sung almost everywhere in the English speaking world on New Year's Eve. Burns' poems often delivered during the shindig include "To a Mouse", "A Red, Red Rose", "A Man's a Man for A' That", "Tam O'Shanter", and the "Address to the Haggis".
In a 2009 TV poll, the Scottish public chose Robert Burns as their greatest countryman of all time. Perhaps that's just one more good reason for you too, to celebrate Burns Night!
Header image credit: Everett Collection/Shutterstock.com
If you've enjoyed reading this post, why not check out more of the articles in the series by clicking the following link: Why do we…….?