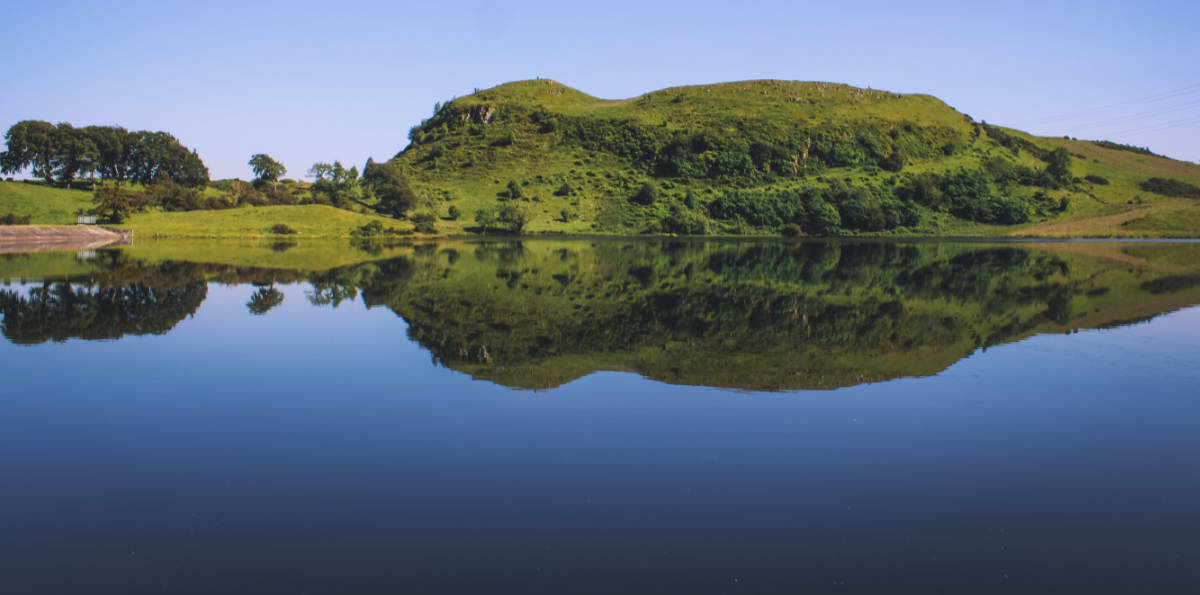 Barrhead – the Town with the Best Name in Scotland.
Yet, for some reason, some people still call it Bordook. There are loads of interesting things about this town, too. It's in East Renfrewshire and has that fabled, heavily sought after Glasgow postcode. Reader's Digest once nominated it as one of the best places to raise kids in the UK.
Barrhead as such has only been around in name since around 1750, however, the nearby area has been inhabited since around 1200 BC. This is witnessed by the remains of a prehistoric fort located atop the picturesque Duncarnock hill (pictured above). In the late 19th century it was made a police burgh around about the same time as a massive mine explosion resulted in the deaths of 63 men and boys. It is thought some of them can still be found in an unmarked grave in St. John's churchyard.
On a slightly cheerier note: Armitage Shanks – that's the porcelain company that probably made your sink if you live in the UK, is situated in Barrhead. It thrived during the industrial revolution as coal and iron were found in Nitshill. Even today it is a popular place to live outside the hustle and bustle of the city centre.
Getting to Know Barrhead
So what is there to do in this industrious little town if you are spending time here? We picked out the best bits of Barrhead for your Five Minute Spare tour.
Technically a little out of town in Paisley, Gleniffer Braes is all you need to have a successful day out with the little ones. They have BBQ areas, picnic spots, old woodlands and grass greens to relax on. You can hike it, you can bike it, you can get lost if you aren't careful so make sure you take your phone.
A hop, skip, and a jump, on the bus takes you to Braehead Shopping Centre in less than twenty minutes. You are actually ideally situated in Barrhead to take advantage of any of the Glasgow-postcode based attractions. Besides that, you are on the coast if you travel a half-hour in the opposite direction.
The Levern Water is the river that runs through Barrhead and that has helped to feed the town for hundreds of years. It flows from a source in Long Loch and a hive of activity in the summer. You can kayak down it – an increasingly popular sport in Scotland, you can picnic beside it or you can enjoy the many walkways that wind along the length of it. It's also lovely in winter but it's about half as safe. Be careful out there and keep the water sports to the warmer months.
Those who love trains might also want to take a hike out to the viaduct and admire the bridge that crosses the Levern, heading into Glasgow proper.
This is the newest country park in Scotland and there isn't much information about it out there yet. None of our guides here at Five Minutes Spare has checked out this destination yet. Feel free to add your comments in the forum if you have.
The park is supposed to encompass the area between Barrhead and the village of Darnley and will run its own ranger service. We hope they work hard on conservationism as well as providing events and entertainment for the general public.
Silverburn shopping centres is one of the largest shopping centres outside of the city. There are loads of shops here, as well as fast food places, the occasional event, and some designer outlets. It is a reasonably high-end shopping centre, meaning it's not somewhere you find a lot of locals… not from your run-of-the-mill housing estate, anyway.
Go and enjoy it, feel rich for a day. It's a nice place.
In Barrhead Sports Centre you can find all sorts of active things to do. Enjoy the gym, take advantage of the leisure facilities, or enjoy a swim. At some point, the government decided that every town in Scotland above a certain population had to have its own leisure centre. Some are good, some are awful, Barrhead's is one of the better ones in that it doesn't smell of sweat.
Arthurlie F.C.
No Five Minutes Spare town guide would be complete without at least mentioning the local football team and the town's club has a bit of history to it.  Today the club plays in the West of Scotland Conference A, however, in the early days of Scottish Football they were quite a successful club.
Their claims to fame include winning Scottish League Division Three in 1923-24 and earlier they finished Joint Second in Division two in  1906-7 season.  However, their main claim to fame was their 4-2 win over Celtic in the Scottish Cup in 1896.  They have also won the Scottish Junior Cup twice, most recently in 1998.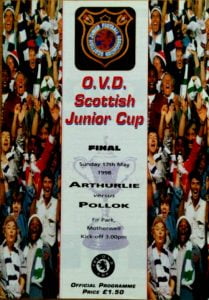 If you like your football a little more rustic then you can watch them play at Dunterlie Park. The ground holds around 4,000 spectators so you should be ok paying at the gate.
If you want to know a bit more about the club check out our Arthurlie F.C Team Page.
Other Notable Barrhead Attractions
Some of the other things to do in and around Barrhead in Glasgow include:
The Barrhead Heritage trail takes you along the Levern Water and encompasses a local tour that should help you get to know the area.
Take a trip out to the Clyde Valley to experience the former industrial heart of the country.
Go to the seaside – you can go north to Gourock, west to either Largs or Ayr or stop halfway and enjoy Kilmarnock.
So you see, Barrhead is a very central location that gives you access to other areas of Scotland.
Where to Eat, Drink, and Party in Barrhead
Besides the fact that you have all the amenities of Glasgow barely 20 minutes by train away; what can you get up to in terms of nightlife in Barrhead? For family food with a fun twist try the Bluestone, Barrhead. It has an informal feel but great food. Amano Italiano is the place we suggest you go to eat out in style. Its stunning menu and lovely Italian atmosphere will seal any business deal.
The Lynhurst Hotel is a nice cosy place to have a quiet drink of an evening. It has lovely atmospheric lighting that makes a romantic mood. The Dalmeny Park House Hotel has reportedly got the best cocktails in town, while the Abbey Inn is more sport orientated. If you need a nightclub we recommend you go into Glasgow and take advantage of Night Club Buses that run here.
Getting to Barrhead
Now you know a bit about the town you will, of course, want to know how to get here and there are numerous options.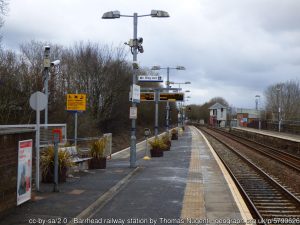 By Train
Barrhead station is on the Glasgow Southwestern Line, so the easiest way is to head to Glasgow Central and get one of the frequent trains from there. This offers connections from both Carlisle & Newcastle from the South.
By Road
Head to Glasgow – from the South via the M74 and then take the M77. It's well signposted from there.
By Air
Glasgow International Airport is pretty close.
Looking for More?
If you are still looking for more? Then check out our other town guides or have a browse around the rest of the site. We have everything from hobbies to sports trivia for your amusement. Otherwise, why not start planning when you'll visit Barrhead? There's really no reason not to now, is there?