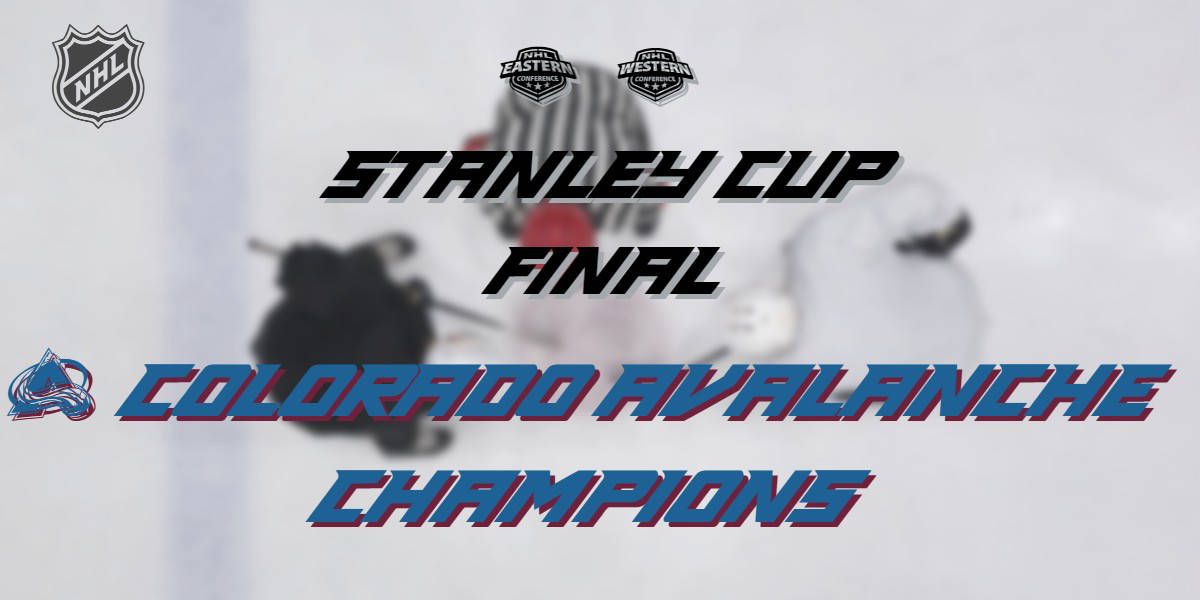 The Colorado Avalanche clinched their third-ever Stanley Cup on the road, with a hard-fought 2-1 win in Tampa last night. This ended a 21 year drought for the Avalanche and prevented Tampa from joining that rare group with 3 or more consecutive wins.
For the First period anyway, it looked like a game seven was on the cards as Tampa held a 1-0 lead. However, they had Andrei Vasilevskiy to thank for that as he pulled off a string of saves. This continued in the second period, however, he could do little to stop the avalanche's incessant pressure from paying off and once they went 2-1 up they were content to hold on to the puck.
Tampa never looked like getting the equaliser despite a late flurry and in the end Colorado were deserved winners.
 Game Six Highlights Below
A Bit of Over Enthusiasm
There might be a bit of a dent in the Stanley Cup thanks to a bit of over-enthusiastic celebrating. There were a few anxious looks on the player's faces when it took a tumble.
When you see it… 🙈🙊 #StanleyCup pic.twitter.com/93EigCbAWC

— NHL (@NHL) June 27, 2022
2022 Stanley Cup Stat Attack
All Six Results
June 15 Tampa Bay Lightning 3–4 OT Colorado Avalanche Ball Arena
June 18 Tampa Bay Lightning 0–7 Colorado Avalanche Ball Arena
June 20 Colorado Avalanche 2–6 Tampa Bay Lightning Amalie Arena
June 22 Colorado Avalanche 3–2 OT Tampa Bay Lightning Amalie Arena
June 24 Tampa Bay Lightning 3–2 Colorado Avalanche Ball Arena
June 26 Colorado Avalanche 2–1 Tampa Bay Lightning Amalie Arena
Both OT Games went to Colorado.
Who Scored
Colorado 20 Goals
Valeri Nichushkin 4
Cale Makar 3
Gabriel Landeskog 2
Andre Burakovsky 2
Nathan MacKinnon 2
Artturi Lehkonen 2
Josh Manson
Darren Helm
Anthony Cirelli
Andrew Cogliano
Nazem Kadri
Tampa 15 Goals
Ondrej Palat 3
Nicholas Paul 2
Anthony Cirelli 2
Mikhail Sergachev
Steven Stamkos
Paul Maroon
Corey Perry
Victor Hedman
Jan Rutta
Nikita Kucherov
Steven Stamkos
Overtime scorers
Andre Burakovsky
Nazem Kadri
Conn Smythe Trophy (MVP) Winner
Cale Makar with 8 goals & 21 assists in the post season
So there we have it no three-peat but oh so close. For Tampa, the injuries eventually told and of course, they were playing a very good team. Colorado can now look forward to having the holders target on their backs , however if they can hold on to the nucleus of this squad then they should be in with a chance at emulating the Lightning and winning it back to back.
Before you go why not try one of our NHL Quizzes. We have a growing number available to test your hockey knowledge