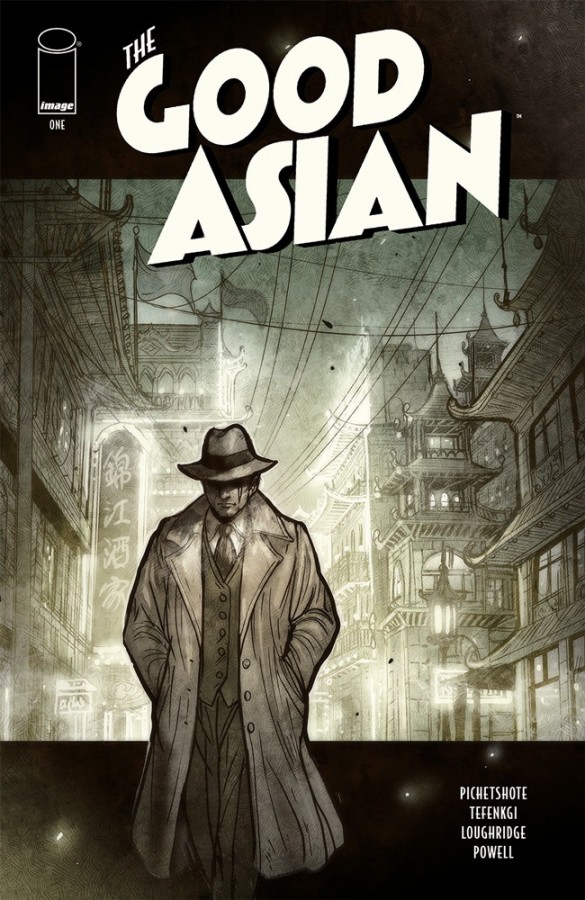 If you love crime noir with a vintage touch then The Good Asian, which has recently been published by Image Comics will be right up your street!
Scene setting
Set in troubled 1930s America this showcases the little known dark side of immigration at the time. Thanks to the Chinese Exclusion Act of 1882 and subsequent legislation, the US was not a friendly place for Asian people around this time.  This adds a bit of poignance to the story.
In a nutshell, this is a disappearance mystery involving a missing Chinese maid and the protagonist Edison Hark's search for her. The setting is 1936 San Fransisco and the art, colouring and language work well to give it that antique feel without being cliched.
The Good Asian General Info
The Good Asian Issue One
By Image Comics
Published May 2021
Format: Colour Comic 
Cover Price $3.99
Writer: Pornsak Pichetshote
Artist: Alexandre Tefenkgi
Cover Artist: Dave Johnson
Variant Cover: Sana Takeda
Genre: Crime Noir – With A Chinatown Feel!
So Is The Good Asian Any Good?
For this type of story to work you need to get enough back story to understand the characters' motivations, but not too much so as to spoil the journey. Fortunately, Pichetshote who recently wrote the excellent Infidel series pretty much nails it. Just enough detail to give you a feel for the lead character while holding back enough to make you want to know more.
The pacing was fine and the art complements the story, style-wise having a European feel to it. There are also plenty of panels to carry the script which works well with this type of story.
Artist Alexandre Tefenkgi is far from a household name currently, but his style really suits this type of story as you can see below. Even the colouring is great and here Lee Loughridge has wisely chosen a limited pallette for each scene. This adds to the flow and also, to me anyway, seems to capture the era.
Should You Buy It?
The short answer is yes, but we are fans of the genre so perhaps we are a bit biased. If you are more of an action/superhero comic fan then you probably won't appreciate the lack of splash pages and the somewhat muted colour palette.
Prospects
Well, it's off to a good start and has the potential to be a decent long-running series (or series of mini-series).  It is not a mass appeal book but it should get a bit of a cult following. There is a strong chance that sometime down the line this will get optioned for a TV series, but till then it is unlikely to rise much in value for those who buy with an eye for gain more than reading pleasure. Still in this case it's a better than average punt.
Rating
Our rating on the Good Asian is a solid 7.5/10 and we will be picking up issue two.