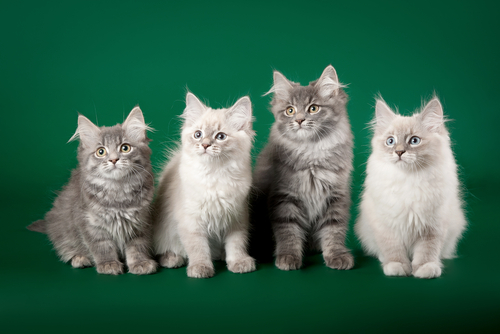 Pedigree Breeds of Cats in the UK
The Governing Council of the Cat Fancy (GCCF) is the premier organisation for the registration of pedigree cats in the United Kingdom. Considered to be a prototype for all cat fancy registries around the world, it is an independent body with around 150 member clubs. It licenses cat shows put on by its affiliated clubs which number around 135 shows per year. Pedigree cats at these shows can gain the titles of Champion, Grand Champion, Imperial Grand Champion and Olympian. The latter having three levels, Bronze, Silver and Gold.
The GCCF own show is the Supreme Cat Show, which is famous for being the world's largest cat show and is often referred to as 'The Crufts' of the feline show world. The GCCF offices are based in Bridgwater, UK, where the staff deal with all aspects of running a registrar organisation and correspondence from breeders, exhibitors, clubs, committees and the general public. The GCCF is a member of The Cat Group and the World Cat Congress.
The GCCF currently (2019) registers around 20,000 pedigree cats each year and recognises the 40 following cat breeds:
Abyssinian
Asian
Australian Mist
Aztec
Balinese
Bengal
Birman
British
Burmese
Chartreux
Cornish Rex
Devon Rex
Egyptian Mau
Exotic Shorthair
Korat
LaPerm
Lykoi
Maine Coon
Manx
Nebelung
Norwegian Forest Cat
Ocicat
Oriental
Persian
RagaMuffin
Ragdoll
Russian
Selkirk Rex
Siamese
Siberian
Singapura
Snowshoe
Sokoke
Somali
Sphynx
Suffolk
Thai
Toyger
Tonkinese
Turkish Van & Vankedisi