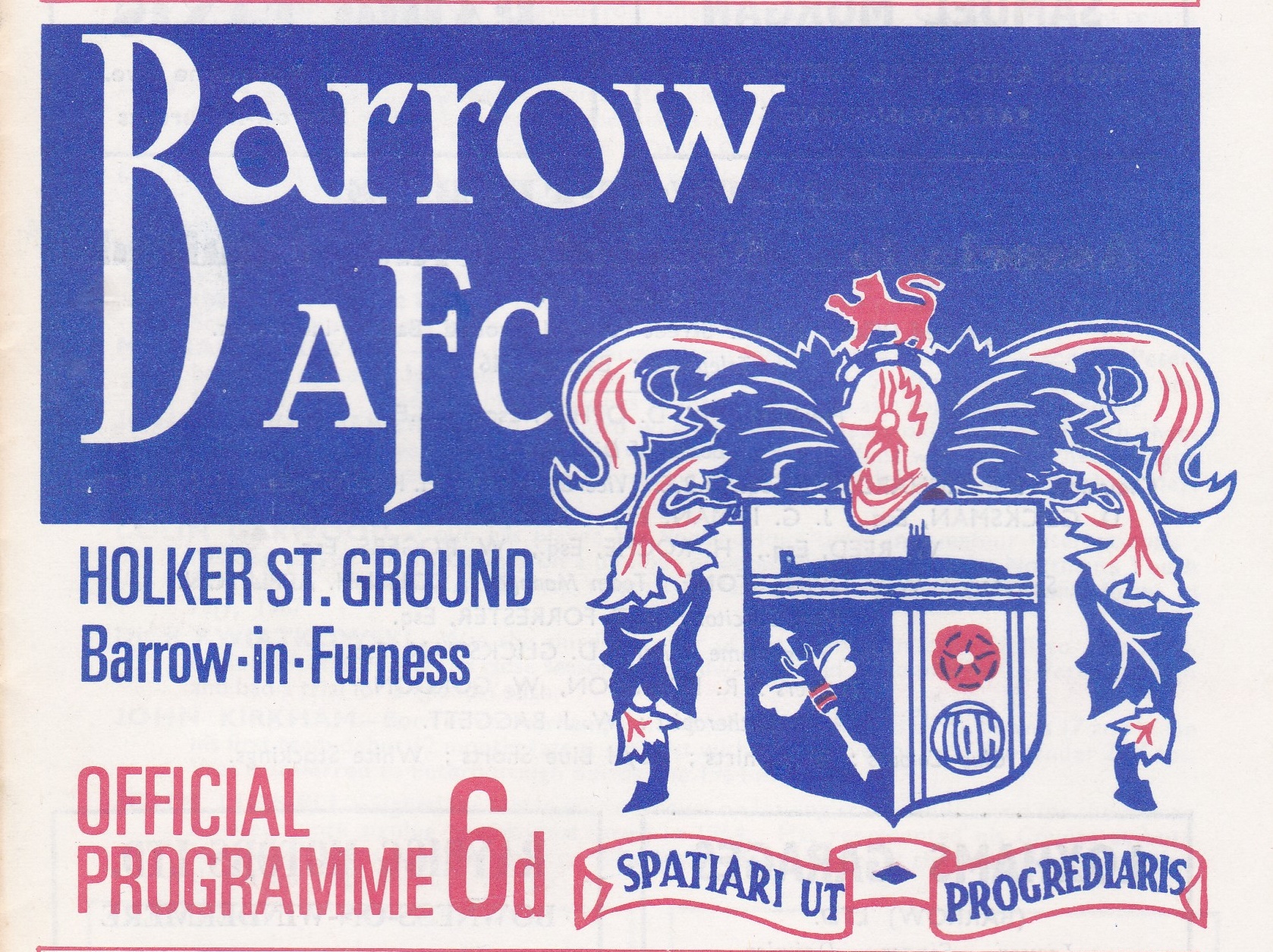 Barrow AFC or The Bluebirds as they are nicknamed were formed in 1901 and would go on to become founder members of the Football League 3rd Division North in 1921-22. They moved about stadium wise in their early years before finally taking up residence at their current stadium in 1909. They had some early success, gaining promotion from the Lancashire Combination Division Two in 1904-5 and they reached the FA Cup 1st Round Proper in 1905-6 season, going down 3-2 at Bradford City.
Prior to joining the Football League Barrows Main Honour was winning the Lancashire Combination in 1920-21.
Into The Football League
Barrow AFC was as mentioned above one of the Founder Members of the Third Division North, in 1921-22, however, they struggled a bit, and had to seek re-election four times in their first nine seasons. The 1930s were a bit better though and they reached the heady heights of 5th in 1931-2 and they also reached the FA cup 2nd round a few times.
Post-war was much the same, apart from some better performances in the FA Cup, which included five 3rd round appearances, most famously against the then League Champions and footballing powerhouses Wolverhampton Wanderers in 1958-59.
They finally gained a league promotion in 1966-67 finishing third and were once top of the third division table. Sadly they lost their league place in 1971-2 after a slightly controversial second re-election vote.
After bouncing around the top two tiers of the non-league they regained their place in the League by winning the Conference in 2019-20 allowing them to resume their rivalry with Carlisle United. They also have two FA Trophy Final victories to their name.
Barrow plays their home games at Holker Street which has around a 5000 capacity so you should be able to pay at the gate if you fancy a game. However, seats are limited to 1000 so if you want to watch in comfort book a ticket.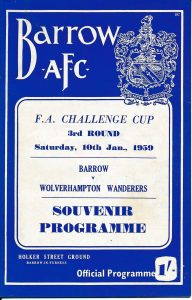 Barrow AFC More Recently
Barrow AFC List of Achievements as of 2019-20
Record attendance – 16,874 vs Swansea Town, 9 January 1954
Best league performance – 8th in Division Three 1967–68
Football League 
Founder Members of  Division Three North in 1921-22
Highest League Finish – 8th in Division Three in 1967-68
League Promotions – From Division Four in 1966-67 (3rd place finish)
Best FA Cup Runs – Round Three 1945–46, 1947–48, 1953–54, 1955–56, 1958–59, 1963–64, 1966–67, 1967–68, 1990–91, 2008–09, 2009–10 & 2016–17
Best League Cup Runs – Third Round, 1962–63, 1967–68
Non-League Titles
National League Winners 2019–20
Conference North Winners 2014–15
Conference North Play-Off Winners 2007–08
Northern Premier League Winners 1983–84, 1988–89, 1997–98
Northern Premier League Promotion Playoff Winners – 2004–05
Lancashire Combination Division One Winners 1920–21
Non-League Cup Wins
FA Trophy Winners 1990 & 2010
Northern Premier League Presidents Cup Winners – 2002 & 2004
Lancashire Senior Cup Winners 1954–55
North Eastern League Challenge Cup Winners – 1935 & 1937
Club Details
Useful information if you are planning to watch a game or just want to keep abreast of things.
Barrow AFC Formed 1901
Address
BARROW BLUEBIRDS LIMITED
The Progression Solicitors Stadium
Wilkie Road
Barrow-in-Furness
Cumbria
LA14 5UW
Social Media
So there you have it our quick guide to Barrow AFC. If you want to see what else Cumbria has to offer you can get back to the Your Cumbria home page here.
Published in Football, Sport In Cumbria
Recommend

0

recommendations